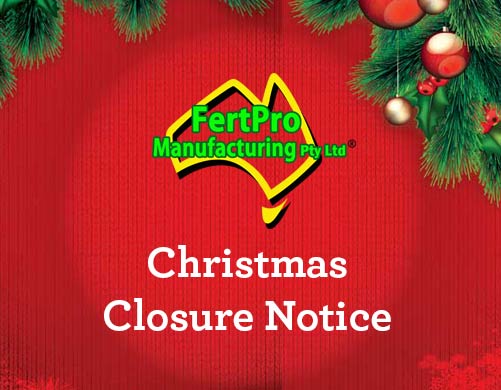 Christmas Closure Notice
To our valued customers,

Fertpro Manufacturing will be closing down for the Christmas break at 12 :00 PM on Wednesday the 22nd of December 2021 and will not reopen until Monday the 10th of January 2022 at 7:00 AM.

All orders must be received by Monday the 6th of December 2021 (COB) at the very latest for 2021 production.

Any orders received after this date will be scheduled from Monday the 10th of January 2022 and will be price quoted at the time of production due to the volatility of the fertiliser input costs, transport and shipping

Please note that from the date of this notification all orders received may have an extended lead time due to the high demand of Pre-Christmas orders.
Please ensure you submit all orders as soon as possible in order for us to meet your delivery requirements. Fertpro would like to take this opportunity to thank you for your ongoing business through 2021 and we look forward to continuing to provide a high standard of service in the new year.

Wishing you and your families a happy and safe Christmas and New Year.

Kind regards
Fertpro Management
Every Farmer needs a Fertpro!